Our consultants directory contains profiles of consultants that work at our hospitals on a permanent basis.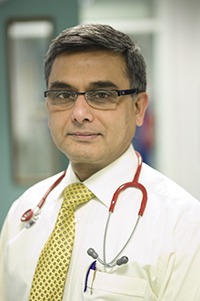 Job title
Consultant Paediatrician and Clinical Lead, Queen Mary's Hospital for Children
Email address
Arunavakundu@nhs.net
Service
Paediatrics
About
Arun is a senior Paediatrician with over 25 years of experience in dealing with a wide variety of paediatric problems.
He is a newborn specialist and has a specialist interest in blood disorders of children (excluding cancer).
He is currently the Clinical Director for the Paediatrics for the trust.
Arun is a mature and knowledgeable clinician with impeccable professional credentials and able to deal with most problems that children present with. He has a very large number of satisfied patients and parents in his case load.
He is also a senior and international examiner for the Royal College of Paediatrics and Child Health in addition to being an assessor for the senior paediatric trainees at the end of their training.
Special interests and treatments
Newborn and infant specialist
Non-cancer blood disorders of children
Record last modified