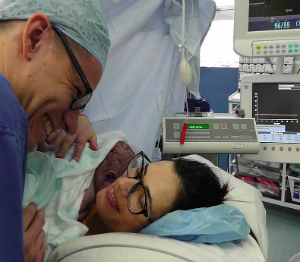 Champions of choice: maternity team at St Helier pioneer sensitive caesarean
When Frederique Rattue was pregnant with her fourth child, she was told that for health reasons, she would need a caesarean section – dashing her hopes of having her baby at home.
But, working with midwives (including the most senior members of the team known as supervisors of midwives) and obstetricians at St Helier Hospital, Frederique and the team came up with a plan to make the birth as natural as possible and where feasible, try to mimic some aspects of a natural birth.
Their 'sensitive caesarean' was devised to make sure Frederique and her husband Aaron (and of course, their new arrival Diego) were at the centre of the procedure, including lowering the surgical drape so that they could see their baby being delivered, and find out the sex of their baby at the same time as the delivery team.
As part of the plan, Diego was brought into the world slowly, with an intentional delay between the head being delivered and the rest of the body – allowing him the chance to begin breathing. Once he started crying, his shoulders were delivered and slowly, the rest of his body.
Diego was then immediately handed to Frederique so that they could enjoy vital skin to skin contact, all with the umbilical cord still attached. In a routine caesarean, once delivered, the baby is usually taken to be examined, cleaned, tagged, weighed and swaddled before being introduced to the parents, which can often means there's a 10 minutes delay.
Frederique explained why she was so keen to have a caesarean section that felt a bit more natural: "My three other children were born naturally at home, and I had hoped that it would be the same for Diego. Unfortunately, that wasn't to be, but I really wanted keep ownership of it, and be able to have a say in the process.
"I would absolutely recommend a sensitive caesarean – for me, it seemed like a much more human approach to the procedure, and I felt really empowered all the way. The staff from St Helier were all incredible – they took the time to listen to me and were very accommodating, and even though it was new to them, they were incredibly open to it. I ended up feeling like a super star!
"As a parent, you have to fight for your children and try to do the right thing for them – I wanted that to start at the very beginning with Diego's birth."
Midwife Maria Mills-Shaw said: "It was incredible to part of something like this – it was a simple process, so although it was the first time that we as a team had done something like this, it all felt very natural.
"We know that having a baby is one of the most emotional and rewarding moments of any parent's life – we want to be able to support them in having the birth experience that they want. It was an absolute honour to help Frederique and Aaron, and I hope that we'll be able to support other parents in a similar way.
"It was an absolute team effort, and was only possible thanks to the whole team, including Frederique's consultant obstetrician Mr Adetunji Matiluko."
For more information about our maternity services, including home births and the birth centres (with birthing pools), please call 020 8296 2542 for St Helier or 01372 735 367 for Epsom.