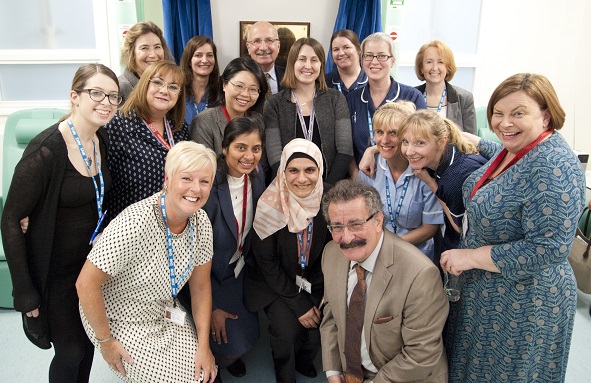 New Beginnings start here – Professor Robert Winston declares St Helier unit open!
Pioneer of fertility treatment, TV presenter and author, Professor Robert Winston declared the new Assisted Conception Unit at St Helier officially open this week (Wednesday 8 February).
The new £750,000 unit – officially known as Beginnings – offers services involved in assisted conception and IVF (where an egg is removed from the woman's ovaries, fertilised with sperm in a laboratory and then returned to the womb to develop) to people who are struggling to conceive, and those who want to use a donor to help make their family complete.
Professor Winston and his colleague Mr Raul Margara MD were met by the trust's Chief Executive Daniel Elkeles, Joint Medical Director Dr Ruth Charlton and Clinical Director for Gynaecology Mrs Carolyn Croucher (who worked as a senior registrar with Professor Winston and Mr Margara at the Hammersmith Hospital) before going on a tour of the unit and declaring the department officially open.
Professor Winston said: "I am privileged and honoured to be here today to declare your new unit officially open. The work that we do changes peoples' lives immeasurably, in such a wonderful way.
"The NHS is run on integrity and a commitment to high quality care, and so it's fantastic to see this new unit open, especially as I know that it is staffed with some wonderful people. Keep up the good work!"
Ms Croucher said: "I am incredibly proud that we can offer local people the full range of assisted conception and IVF services. And as a parent, I can say with conviction that some of my most treasured memories are of my children. So to have this job, which allows me to help others become parents, is just wonderful.
"All of the staff are very proud of Beginnings and the work that we do here. For people who are desperate for a baby, struggling to conceive or looking for a donor, it can be an incredibly difficult time – we want to be able to make the process as simple as it possibly can be. Thanks to our new unit, we'll be able to offer local people an expert assisted conception service in a warm, supportive environment."
Mum-to-be Jessica Murphy, who is set to be one of the first parents helped by the unit, was also at the celebration. Describing her experience of Beginnings, Jessica said: "It's just a little miracle. This could have been a difficult time for me and my husband, but every member of staff has just been incredible – from the receptionists to the most senior doctor, they have all been fantastic. We have laughed every time we have come in. I know that we've been very lucky for this to have happened so quickly, and to live locally to such a fantastic NHS service."
Jessica and her husband appreciate the staff of the unit so much that this year, they were a major feature in her Christmas decorations. She said: "They were at the top of our tree this Christmas! Every year my husband and I put a picture of someone that we really like as the star on our tree – previous years have been Stephen Fry and Richard E Grant, but this year, it was the staff from the Assisted Conception Unit!"
Chief Executive Daniel Elkeles said: "We were absolutely delighted to welcome Professor Winston and Mr Margara to our Assisted Conception Unit and would like to thank them both for coming. We were also very pleased that some of our commissioners could join us for this special occasion."
If you would be interested in being seen in the new Assisted Conception Unit, please see your GP in the first instance, who will be able to refer you to the service.