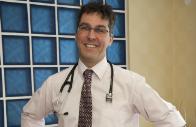 Sunshine, summer and sneezing – the start of hay fever season
With blossom on the trees and the sun shining brightly in the sky, it definitely feels like summer has arrived. And although that is great news for most people, for others it only means one thing: the start of hay fever season.
Hay fever is an allergy to pollen that affects around one in four people, and its symptoms usually include frequent sneezing, a runny or blocked nose and itchy, red or watery eyes (also known as allergic conjunctivitis).
Joint Medical Director Dr James Marsh said: "As the weather begins to heat up, several different types of pollens begin to increase and that's usually when hay fever sufferers begin to see the start of their symptoms.
"For most people the symptoms are mild, but they can interfere with sleep and daily activities at work or school. There are a range of treatments that are available from pharmacists to help reduce the effect of pollen, including tablets, liquid, inhalers, nasal sprays and eye drops. There are also several natural and herbal remedies which you can buy over the counter at chemists and supermarkets."
But hay fever isn't always that straightforward, and people who suffer from asthma should be extra careful during this time of year. James said: "People with asthma should keep an eye on your condition, and speak to your GP if you feel it worsening. Your GP should be able to produce a plan for you so that you can control your symptoms by adjusting your asthma medication. If you are in any doubt, please call your doctor for advice."
Measures you can take to avoid hay fever and allergy problems include the following:
Find out how high the pollen count is (available in the news and online)
Try to stay indoors when the pollen counts are very high
Ensure windows and doors are closed when pollen counts are high
Wear wrap-around sunglasses when you are out in the open to stop pollen getting in your eyes
Dry off any wet washing indoors (so that pollen does not stick to your clothes)
Avoid cutting grass
Smearing a small amount of Vaseline inside of the nose can in some people reduce pollen induced nasal symptoms
Regularly splash your eyes with cool water - this will help soothe and cool your eyes.