Back to the list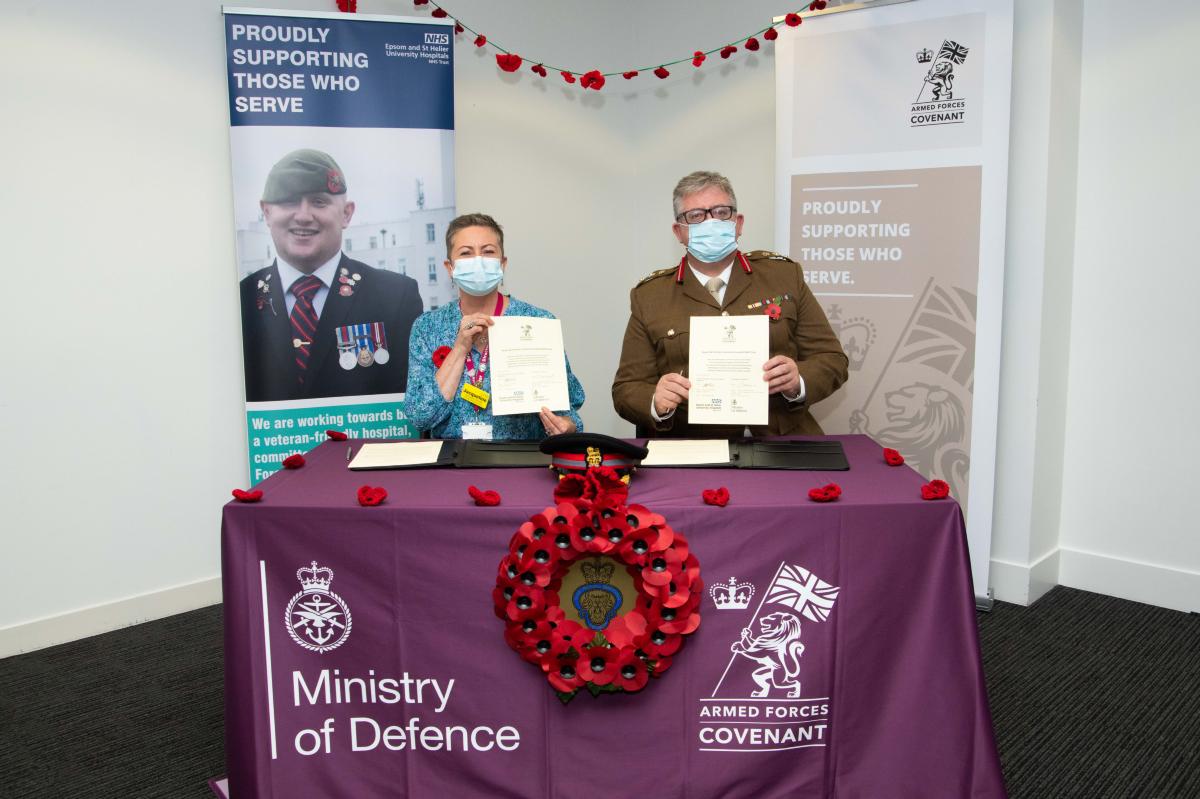 Epsom and St Helier sign pledge to support those in the military community
Epsom and St Helier University Hospitals NHS Trust has shown its commitment to military personnel and their families by signing the Armed Forces Covenant today (Wednesday 10 November).

The Armed Forces Covenant (a formal pledge to acknowledge and understand that those who serve or who have served in the armed forces, and their families, should be treated with fairness and respect in the communities they serve), was signed by Group Chief Executive Jacqueline Totterdell in a show of support for the military community on the eve of Armistice Day.
The covenant formalises the Trust's support for patients and staff who are serving or have served in the Armed Forces or who have family members in the military as well as for military personnel in the wider community – including both health services and employment opportunities. It also confirms the Trust's commitment to be an Armed Forces-friendly organisation and to consider the needs of military personnel and their families.
Jacqueline Totterdell, Group Chief Executive, said: "I could not be more proud than to sign this commitment to our Armed Forces, past and present, and their families on behalf of Epsom and St Helier. The Forces and the NHS have so many fundamental things in common: we are a family, we are truly loyal, and we do what we do with pride and love. The one big difference is that in the NHS we do not start our days wondering if they might be our last.
"And that's why at Epsom and St Helier we are committed to doing everything we can to support those serving full-time in the Forces, reservists, veterans - and the families of all those - whether that be helping their physical or mental health or by providing jobs and careers that use their skills to their best and support them properly in civilian life."
The Trust has also pledged to support the employment of veterans, recognising military skills and qualifications in our recruitment and selection process; developing a reservist policy to support current and prospective employees; progressing from the current Bronze Defence Employer Recognition Scheme (ERS) award to Silver and Gold.

The Armed Forces Covenant is a national initiative that promises fair treatment of those who serve or have served in the military and their families, helping those people have access to the same services in their community as the general public. Businesses, charities and other organisations who wish to show their support for the Armed Forces community can sign the covenant.
Epsom and St Helier hospitals is also showing its support for veterans with its own poppy appeal - asking staff and members of the public to knit, crochet or sew poppies to display at the front of both hospitals and in time for Armistice Day and Remembrance Sunday and displayed throughout November. Poppies are welcome throughout November and can be sent to the Patient Experience Team (5th floor Ferguson House, St Helier Hospital, Wrythe Lane, Carshalton SM5 1AA). The first of these can be seen in the pictures included of Colonel Anthony McGrath, 256 Field Hospital and Group CEO Jacqueline Totterdell signing the Veterans Covenant.

For more information about Epsom and St Helier University Hospitals NHS Trust, visit www.epsom-sthelier.nhs.uk.