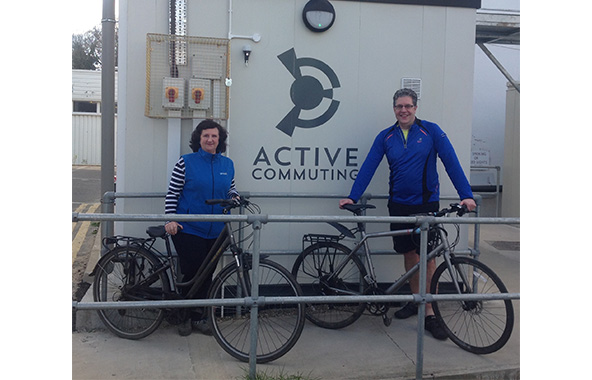 On yer bike! Local hospitals unveil state-of-the-art cycling facilities for staff
Epsom and St Helier hospitals have unveiled two spacious, state-of-the-art bike 'hubs', providing secure storage, changing and shower facilities for those staff who cycle to work.
The brand new hubs, designed by Active Commuting, form part of the Trust's wider commitment to sustainable development, a key aspect of which is encouraging staff to find alternative ways to travel to and from work. Trevor Fitzgerald, Director of Estates, Facilities and Capital Projects, said: "In the last year we have made significant investment in supporting more sustainable travel across our hospitals, and the investment in these fantastic new hubs is the next step in making it as easy as possible for our staff to make smarter travel choices.
"Each facility contains new showers, toilets and lockers, and also separate bike storage. We know that a large number of our staff already cycle to work, so I hope the introduction of these fantastic new hubs encourage even more of the team to forego their cars and hop on their bikes instead!"
Sue Winter, Director of Workforce, and keen cyclist said: "I am really impressed with the new hubs. I enjoy cycling and regularly travel to and from work this way – now having top-notch facilities to store my bike and get ready for the day will make it even more enjoyable! I am also excited because the introduction of these facilities fits well with our ongoing work to support the health and wellbeing of our staff. Cycling is great for keeping fit and active, and now with great new facilities on site for staff, I'd like to encourage as many of my colleagues as possible to ditch their cars and hit the saddle instead."