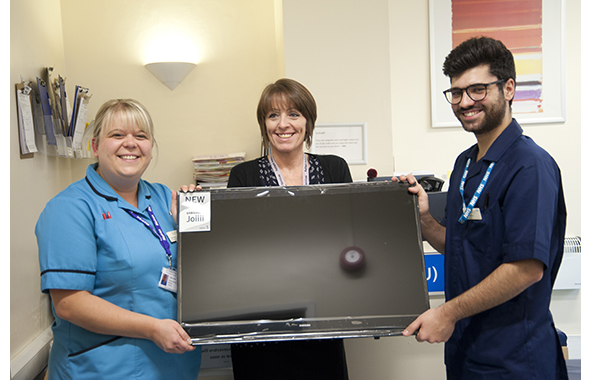 AMU sparkles as new television donated by patient is switched on
A patient who praised staff at St Helier Hospital for "saving her life" has bought a brand new television for the hospital's Acute Medical Unit (AMU).
Jacqueline Blatchford, who is being treated for septicaemia at the hospital, surprised staff and patients with a brand new Samsung TV as a special thank you for the care she has received. Thanks to the generous donation, patients will be able to watch television while they receive treatment or are waiting to been seen by the medical team.
Speaking alongside her husband of 37 years Paul, Jacqueline revealed her connection to the hospital goes back a long way. She said: "I can't fault the staff here at St Helier – they saved my life. They are wonderful and can't do enough for their patients. I had two of my three children here in the hospital – I can't fault the care at all. I would also like to thank the staff in the A&E department and on ward B6 for looking after me.
"I feel the TV will add a bit more of an atmosphere to the waiting room and help other patients to take their mind off things."
Matron Claire Berry said: "We are deeply honoured and touched that one of our patients has bought AMU at St Helier a brand new television. It has been wonderful having Jacqueline here, and on behalf of the staff I'd like to wish her well for the future."
For more information about AMU at Epsom and St Helier University Hospitals NHS Trust, click here (opens in a new window). You can find out more about how you can support our hospitals by visiting www.epsom-sthelier.nhs.uk/get-involved (opens in a new window).