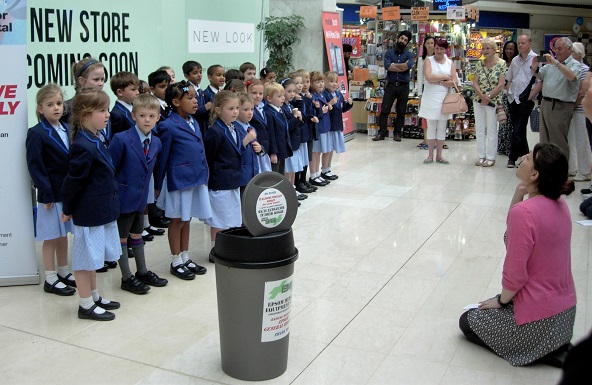 Ewell Castle choir hit the right notes in support of Epsom Hospital
Twenty-five girls and boys from the choir at Ewell Castle Junior School recently visited the Ashley Centre in Epsom, performing a range of beautiful songs to help raise money for the Epsom Medical Equipment Fund.
Bess Harding MBE, Fund Co-ordinator, explained: "Not only were the children – all between five and seven years' old – word-perfect, but they performed in perfect harmony, including hand actions that matched beautifully every song they performed. They are an absolute credit to the school and their Head of Music, Sarah Nesling, who leads the choir and accompanied them on the day.
"It was wonderful to see proud parents, relatives and shoppers stop in their tracks to hear the beautiful singing. The children received enthusiastic applause after each song they performed – one shopper even said she could have stayed there all day to listen to them!"
The children certainly captivated their audience, raising a total of £171.05 in the 40 minutes they performed in the shopping centre. The money they raised will go towards the Fund's latest big project – funding a new £54,000 ultrasound scanner for Epsom Hospital. Bess said: "I am so very grateful to Ewell Castle Junior School choir for their support of Epsom Medical Equipment Fund. Thanks to their efforts, we have now passed the £40,000 mark in funds raised for the new ultrasound scanner, which is just fantastic!"
Founded in 1979, Epsom Medical Equipment Fund has raised over £4 million for the purchase of equipment at Epsom Hospital. The work of the Fund is ongoing, and they are always happy to hear from people who would like to lend their support – if you would like to know more, including how to make a donation, please visit please visit www.emef.org.uk/.