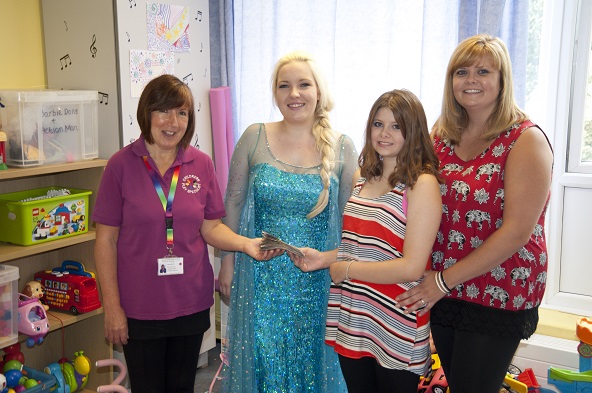 Family of fundraisers and Frozen queen donate £700 to children's hospital
Queen Mary's Hospital for Children played host to a very special royal visit, as Queen Elsa from the hit film Frozen helped hand over a whopping £700 to staff on the children's ward.
Elsa joined Kelly Parsons and her 13-year old daughter Charlotte as they presented the money, which they raised thanks to the success of Ewell Family Fun Day, to Lead Nurse Lin McGraw and Play Specialist Sara Smith. This is the second year that Kelly and husband Dean have organised the event – although no strangers to raising money for charitable causes, the fun day is particularly special to them. Kelly explained: "Earlier this year Charlotte was diagnosed with encephalitis – a rare but serious condition that causes inflammation of the brain. Charlotte spent almost a month being cared for in Queen Mary's; fortunately she is on her way to making a full recovery, but it's been a long journey for all of us.
"Given what Charlotte has been through, we decided that proceeds from this year's fun day should be split between four causes that are very close to our hearts: The Encephalitis Society, The Children's Trust, the children's charity Momentum, and the playroom on the children's ward at Queen Mary's. Organising the fun day gave us something really positive to focus on, and we are delighted it went so well."
The Ewell Family Fun Day featured live music, a range of activities and entertainment for children (including mascots, just like Elsa from Frozen), and fundraising stalls. In total, the day raised an impressive £2,800, meaning each charity will receive a cool £700. Kelly said: "We're really grateful for the great care Charlotte received at the hospital, and this is our way of saying 'thank you' to everyone there. The playroom was a particular asset, as it gave Charlotte's little sister somewhere nice to play and spend time while we were at the hospital.
"In fact, seeing how lovely the nurses at Queen Mary's are has inspired me to pursue my dream to become a nurse. I'll be starting my access course later this month – I can't wait!"
Lead Nurse for Paediatrics, Lin McGraw, said: "Wow – what a special day for us! A fantastically generous donation from Ewell Family Fun Day, and a visit from none other than Queen Elsa!
"Play is an integral part of the care we provide, and it's important that we are able to offer a fun and engaging space for the children and young people we look after. This money is going to make a huge difference – we'll be using some of it to buy a new bookcase, Lego sets for older children (which we are often asked for) and new soft play mats for babies. On behalf of everyone at Queen Mary's I'd like to say a big thank you to Kelly, Dean and Charlotte, and everyone who got involved in the fun day."
It wasn't just the children's ward that got the royal treatment – much to their delight, Queen Elsa also spent some time with the children in Woodlands, the hospital's onsite nursery.