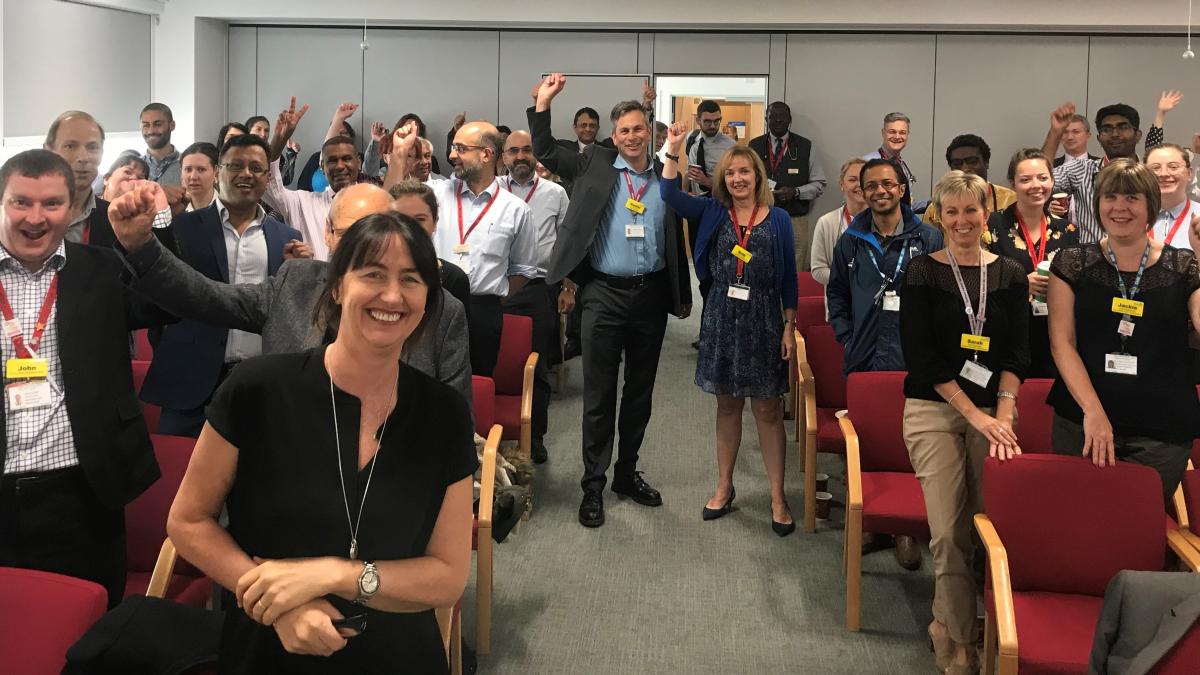 Feeling good, good, good! Epsom and St Helier rated Good
Epsom and St Helier hospitals have been rated as Good by the Care Quality Commission (the independent regulator of health and social care services in England), after a comprehensive inspection of services across the organisation.
Following the three day inspection during May 2019, and separate inspections on our leadership and how we use our resources, inspectors found a number of improvements and positive practices across patient care, including improvements in surgery, medicine and maternity. As a result, the Trust is now rated as Good for being caring, effective, responsive, well-led and for use of resources and is Good overall.
Maternity services at both hospitals are now rated Outstanding for being responsive. This is, in part, thanks to the innovative new Pregnancy Advice, which was launched in partnership with South East Coast Ambulance Service, and has meant that pregnant people in Surrey can access services and advice faster than ever before. It also reflects the fact that the Trust was the first in London to be awarded the UNICEF Baby Friendly Initiative Gold Award.
Chief Executive Daniel Elkeles said: "I am absolutely delighted to announce that Epsom and St Helier has achieved a rating of 'Good' in our latest CQC report. The improvement in our overall rating and in many of our services reflects our absolute commitment to the health and wellbeing of our patients and the babies born in our care. I am so deeply proud of every single member of our staff, and I hope our local communities are proud to have Epsom and St Helier hospitals and our community services on their doorstep.
"Our teams have shown that, without doubt, we are providing caring and effective treatment that is responsive to the needs of the people we serve, and there is some amazing feedback in the full inspection report to support that." Feedback included:
"Staff treated patients with compassion and kindness, respected their privacy and dignity, took account of their individual needs, and helped them understand their conditions. They provided emotional support to patients, families and carers." Page 13.
"Staff kept detailed records of patients' care and treatment. Records were clear, up-to-date and easily available to all staff providing care." Page 22.
Staff from different specialities worked together as a team to benefit patients. Doctors, nurses and other healthcare professionals supported each other to provide good care." Page 35.
Deputy Chief Inspector of Hospitals at the CQC, Dr Nigel Acheson, said: "I am very pleased that Epsom and St Helier University Hospitals NHS Trust has attained a Good rating overall. Management and staff have worked well to improve from the previous Requires Improvement attainment.

"I was particularly impressed with the standard of maternity care at the Trust, which had received a prestigious award.

"The trust is going in the right direction with a management team committed to further improving care in the future."
Daniel added: "This inspection also showed that our Trust is performing well behind the scenes too, having assessed whether our services are well-led and whether we use our resources wisely and efficiently. Whether a health care provider is well-led can have a significant impact on patient care and in fact, the CQC's comprehensive inspections of NHS trusts have shown a strong link between the quality of overall management of a hospital trust and the quality of its services. This inspection showed that our Trust Board had the appropriate range of skills, knowledge and experience to perform their role and senior leaders were aware of the current priorities and challenges of the trust and knew of the various strategies and measures to address them. We were also awarded a rating of Good for use of resources, which is particularly impressive in an organisation where, because we run duplicate services across two sites, we have a naturally occurring deficit.
"It's also important to note that, one of the reasons we particularly welcome a CQC inspection is that – aside from showing us what we do well – it can also highlight areas that need to be improved. We recognise that there are some areas that need further development, and we would like to assure our patients and local communities that we are already working on that, and in fact, have already made some of the suggested improvements.
Inspectors also noted that in many areas of the Trust, the environment was not always appropriate for the services being delivered, due to the age and structure of the estate. That's exactly why we are investing record amounts of money into our buildings, and are working to secure a £500 million investment into a new acute hospital that will ensure Epsom and St Helier can provide long-term, sustainable services for decades to come.
"That said, this is a very positive inspection report and I would like to take this opportunity to thank the 6,000 staff of Epsom and St Helier for working so hard, 24-hours-a-day, seven-days-a-week – you are all my heroes."