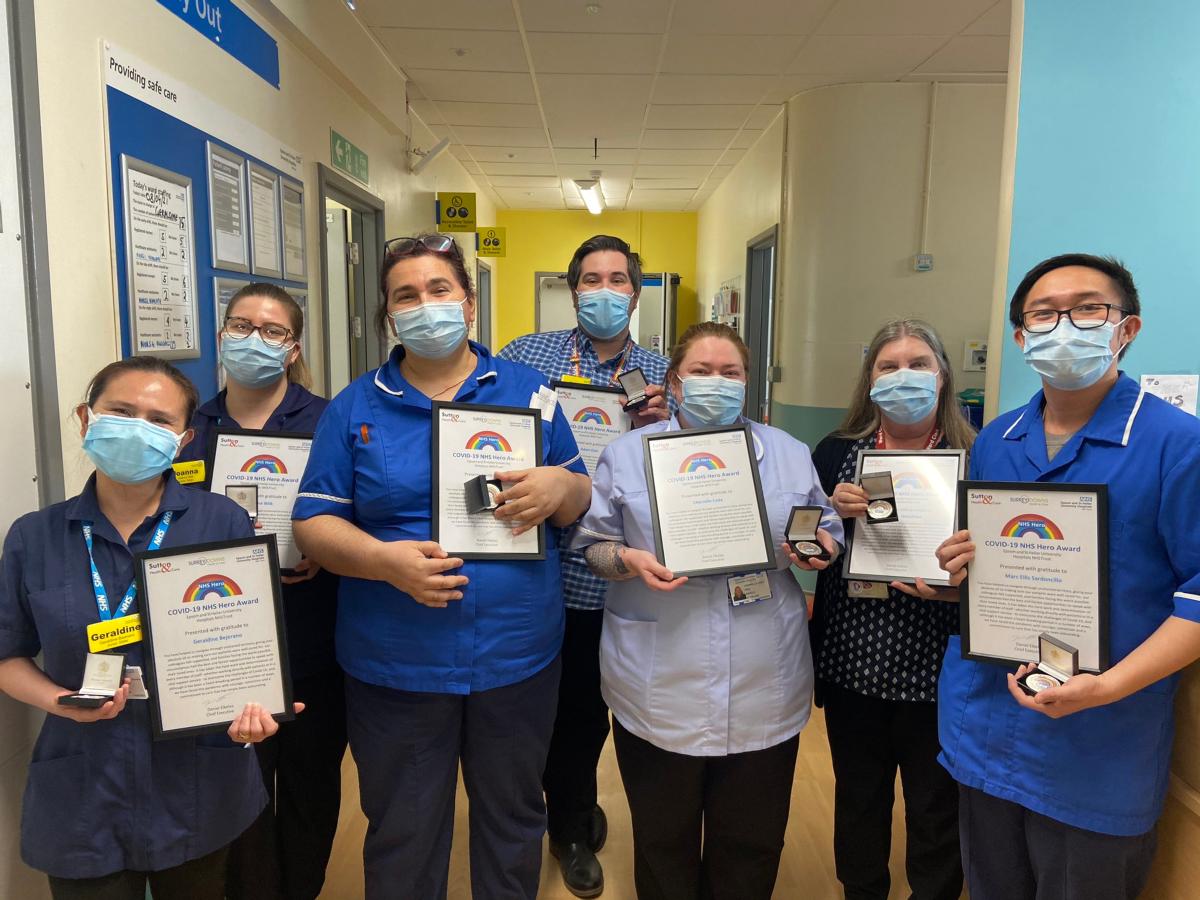 Honouring our healthcare heroes: Epsom and St Helier thank staff with COVID-19 Recognition Awards
To mark the outstanding contributions of Epsom and St Helier's 7,000 strong work-force during the COVID-19 pandemic, the Trust has honoured colleagues with bespoke medals designed and minted by a medal manufacturer by Appointment to the Queen.
Every single member of staff who has worked for the Trust over the course of the pandemic has been presented with a medal, as well as a framed, personalised NHS Hero certificate, as part of a Trust-wide recognition programme.
Social distancing measures have inhibited face-to-face ceremonies, so instead a series of virtual ceremonies have been held to celebrate staff achievements, commemorate their collective losses, and ultimately thank colleagues for their continued commitment, tenacity, and compassion in the face of COVID-19.
Reflecting on the awards, Chief Executive, Daniel Elkeles said: "The last year has been incredibly difficult for the nation as a whole, and those working in health and social care have given their absolute all to fight COVID-19. I'm hugely proud of every member of staff at Epsom and St Helier hospitals, Sutton Health and Care, and Surrey Downs Health and Care, who have made outstanding contributions to the national efforts to overcome coronavirus. And it really has taken the dedication and commitment of all of our teams – from those working in our ITU departments (many of whom had been redeployed from other departments to care for our sickest patients), to our Estates Teams who kept vital oxygen supplies running for patients, to the support teams working behind the scenes to keep our services running as smoothly as possible, this year has truly needed 'all hands on deck'.
"We'll never truly be able to fully show our profound appreciation to our staff, but we hope these awards have gone some way in saying thank you. Each ceremony has been a touching experience, as our staff stepped back and reflected on challenges and losses they have faced, as well as the successes of the last year. They are all heroes to me."
The first of the virtual ceremonies was held on 31 March, for those staff redeployed to The Seacole Centre, the Trust's COVID-19 rehabilitation unit set up on the grounds of former military hospital Headley Court. Since then, further ceremonies have taken place thanking colleagues from areas across the Trust, including our Estates and Facilities team, Medicine, Planned Care, Renal, Women's & Children's, and Corporate divisions, as well as our integrated community partnerships Sutton Health and Care and Surrey Downs Health and Care, and the Trust's COVID-19 Vaccination Hub. One final ceremony, recognising the valuable contributions of our cleaning, catering, and portering staff, and celebrating their return to the NHS fold in June, is due to take place later this month.
Starting with a personal thank you from the Chief Executive and a member of the Executive Team, the ceremonies also featured a minute of silence to reflect on the personal and collective losses of the cohort, before members of the team were invited to share their reflections and gratitudes. The ceremonies also featured a special thank you video from famous faces, which you can watch on our YouTube channel.
The awards have been greatly-received across the Trust, and staff have shared smiling photos with their newly received medals and certificates. One colleague, who has served on active duty in the Falklands and the Gulf, compared receiving his COVID-19 Recognition Award with his military medals and said "it means just as much."
Gillian Norton, Chairman, said: "It has been an honour to award all of our staff with a medal and certificate to thank them for all they've done over the last year. A small gesture perhaps – but entirely heartfelt. I'm proud of everyone for all they've done, for getting up and coming into work every day despite knowing how difficult it might be, and for always putting our patients at the centre of everything they do."
If Covid-19 has left you thinking about a change of career, or you would like to join the 'healthcare heroes' at Epsom and St Helier, why not look at our range of job roles and training opportunities: For more information about Epsom and St Helier University Hospitals Trust, visit www.epsom-sthelier.nhs.uk/bemore.