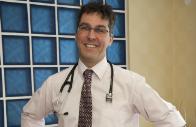 Hot topic – 'Please take care as temperatures soar', urge doctors
The summer has finally arrived, and although many people will be enjoying the warm weather and bright sunshine, such high temperatures can pose serious health risks.
The Met Office has issued a severe weather warning for parts of the country, and has warned that temperatures could rise up to 33 degrees Celsius tomorrow (Wednesday 1 July) in London and the south east.
Dr James Marsh, Joint Medical Director at Epsom and St Helier hospitals has explained why such seemingly perfect weather might become dangerous. He said: "In temperatures like these, people (especially those in high risk groups, such as the elderly and the very young) can suffer from heat-related illnesses such as heat exhaustion, dehydration and sunburn. And beyond that, during very hot weather like this, hospitals can see a spike in the number of heart attacks and strokes.
"We have put extra steps in place to deal with any increase in the number of people who need hospital treatment, but as we all know, prevention is better than the cure. I would urge everyone to enjoy the heat and sun safely, by making sure that you stay cool and hydrated."
James' top tips for keeping cool are:
Keep windows closed when the room is cooler than it is outside
Open windows at night when the temperature outside has dropped
Reduce heat from sunlight coming through the windows by closing blinds and curtains
Have plenty of cold drinks, avoid excess alcohol, caffeine and hot drinks
Have cool showers or baths, put a loose, cotton, damp cloth or scarf on the back of the neck, spray or splash your face with cold water frequently to help keep your body cool.
Those with heart, respiratory and serious health problems are more at risk and the heat can make these conditions worse. Babies and young children are also especially at risk.
Dangerous symptoms to watch out for in hot weather include:
Feeling faint and dizzy

Feeling short of breath
Vomiting
Increased confusion.
If you are affected by any of these symptoms it is important to cool down as quickly as possible, avoid paracetamol (which can make you worse) and seek further advice from NHS 111 or a doctor. Call 999 if a person has collapsed.
If anyone you know is likely to be at risk during a heatwave, help them get the advice and support they need. Older people living on their own should be visited daily to check they are okay.
Remember, heatstroke can kill. It can develop very suddenly and rapidly lead to unconsciousness. If you suspect someone has heatstroke, call 999 immediately. You can find more information about weather warnings and the latest forecast at www.metoffice.gov.uk and further health advice at www.nhs.uk.