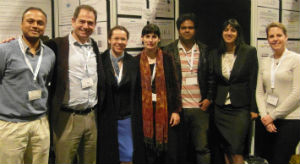 Howzat! Local cricketers to take on celebrity team in charity match
The South West Thames Kidney Fund, a renal research charity based at St Helier Hospital, is set to benefit from a celebrity charity cricket match between local hopefuls and a team of international sports legends and film stars.
On Sunday 9 August, Purley Cricket Club will try to knock for six the celebrity All Star Bunbury XI team, which includes cricket legends Adam Hollioake, Paul Nixon and David Smith, football greats John Salako and Mick Harford, as well as other stars such as James and Oliver Phelps who starred as the Weasley twins in the 'Harry Potter' blockbusters, and Top Gear's stunt driver, The Stig.
Dr James Marsh, renal consultant and Joint Medical Director, said: "Kidney disease is very difficult to live with, it can be fatal and unfortunately, it's becoming increasingly common. It's therefore very important that we keep the treatments advancing and improving all the time, and the only way to do that is through research.
"We are absolutely delighted that the Bunbury Cricket Club and Purley Cricket Club have selected our charity as a beneficiary for the match and would like to thank them in advance for their efforts.
"Proceeds from this high-profile event will make a real difference to the South West Thames Kidney fund and our patients."
Ticket holders at the event will enjoy a three-course buffet lunch with wine, a charity auction, a charity raffle, and of course the cricket match, which will include a traditional taking of tea in between innings.
Tickets are on sale now at £65 per person, with tables of ten available at £650. General ground admission will be from 1pm and is £5 per adult and £2 for under 18's. Family tickets for two adults and two youngsters are available for £10.
To book a place, please phone 020 8296 3698 or email bunbury@kidneyfund.org.uk. More information about the event itself can be found on the Bunbury Cricket Club website.