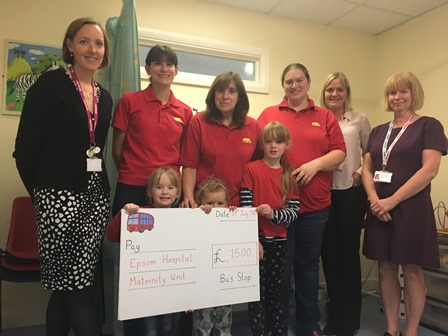 Room to breathe - £1,500 donation for Epsom Maternity Unit
The Maternity Unit at Epsom Hospital recently received a cheque for £1,500 to go towards new equipment, thanks to the fundraising efforts of the children, staff and parents of the Bus Stop Pre-School in Bookham.

Director of Midwifery and Gynaecology, Marion Louki, said: "We would like to say a huge thank you to everyone who has been involved in the Bus Stop's fundraising campaign. This generous donation will fund a new oxygen saturation monitor for babies who need it in the maternity unit.
"The fundraising started small with occasional bake-sales, but has now resulted in Kate (Bus Stop's owner) running a half marathon, and the entire pre-school doing a sponsored walk/toddle – what a fabulous effort! There are now more plans to hold a yearly fundraiser for the unit, which our staff could not be more pleased about!"
The Bus Stop Pre-School is a family run Pre-School, Nursery and Forest School, based on the National Trust's Polesden Lacey Estate. If you would like to know more about them, you can visit their website: www.busstoppreschool.co.uk or email: busstoppreschool@aol.co.uk.
For more information about the Trust, including how you can get involved and support us, please visit www.epsom-sthelier.nhs.uk.